Breaking Bad Master Class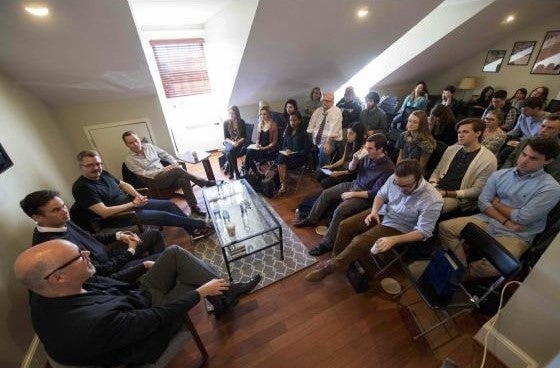 On Wednesday, November 11th, the Film and Media Studies Program (FMST) hosted key members of the creative team behind the critically acclaimed AMC series Breaking Bad. The event was part of ongoing "Master Class" series—curated by Bernie Cook, director the FMST program—to explore the media industry.
In a panel discussion moderated by Cook, students engaged with Zack Van Amburg (C'92), president of U.S. programming and production for Sony Pictures Television; Vince Gilligan, Breaking Bad's creator, head writer, and executive producer; and actor Bryan Cranston, who played the lead role in the series. Van Amburg, Gilligan, and Cranston spoke about their experiences with the show and offered insights on the entertainment industry.
Regarded as one of the best television shows of all time, Breaking Bad is the story of Walter White, a New Mexico chemistry teacher who is diagnosed with terminal cancer. With only a few years to live, White pursues financial security for his family by creating and selling crystal meth. Throughout the series, viewers witness White's transformation from a quiet family man to a dangerous drug lord.
"We really wanted to know if we could take an average person and see how far they'd go to matter," Gilligan explained during the panel.
Throughout the discussion, Van Amburg, Gilligan, and Cranston all spoke of the unique conditions that lead to Bad's success, including the rise of Netflix, which helped the show gain a following through word of mouth and binge watching.
"Most TV shows get cancelled—five percent survive," said Van Amburg. "Breaking Bad beat those odds dramatically."
Van Amburg also cited a renewed focus on storytelling in television that helped create the right environment for the show to thrive.
"[It] was the best script I'd read for TV," Cranston said. "I think of the show as a novelization; each episode is like a chapter. That's why you see people watching three or four episodes at time."
The trio also took questions from students in the audience and discussed the ins and outs of Hollywood and the television industry.
All FMST Master Classes are explicitly linked to current and future curriculum, such as Cook's FMST-400 capstone course, which studies "complex TV" and Breaking Bad. Cook, who is also an associate dean at the Georgetown University College of Arts & Sciences, says he purposefully frames these discussions as classes, rather than talks or Q&A sessions, so that the topics remain directly connected to ongoing learning in FMST courses.
"I really enjoyed the dynamic between all the panelists," said student Alana Snyder (C'16). "The class was so valuable in that it covered so many facets of one particular show—because the panelists were all tied to the same project, what they said had much more meaning and depth."